Our TEFL/TESOL certificate
Recognized by employers worldwide.
It is accredited by the UK government.
It International Certification Standard for English teachers.
It is a licence to teach English worldwide.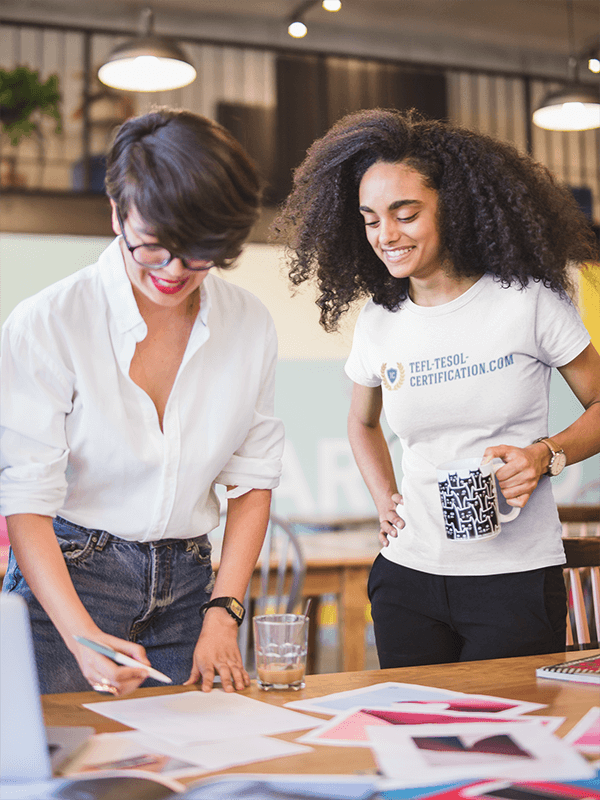 You can check it on the official websites:
✅ GOV UK → UK Government.
✅ UKRLP UK → Register of UK educational institutions.
✅ ACCRIN UK → An international accreditation center based in the UK.
All links to the official sources for checking accreditation and information about consular legalization are below ⬇️
As a rule, employers indicate in vacancies that it is preferable for them to have a TEFL TESOL certificate received from a British center.
Personal licensed TEFL/TESOL certificate is included in the price.
Accredited from the British Center in the internationally recognized organization ACCRIN.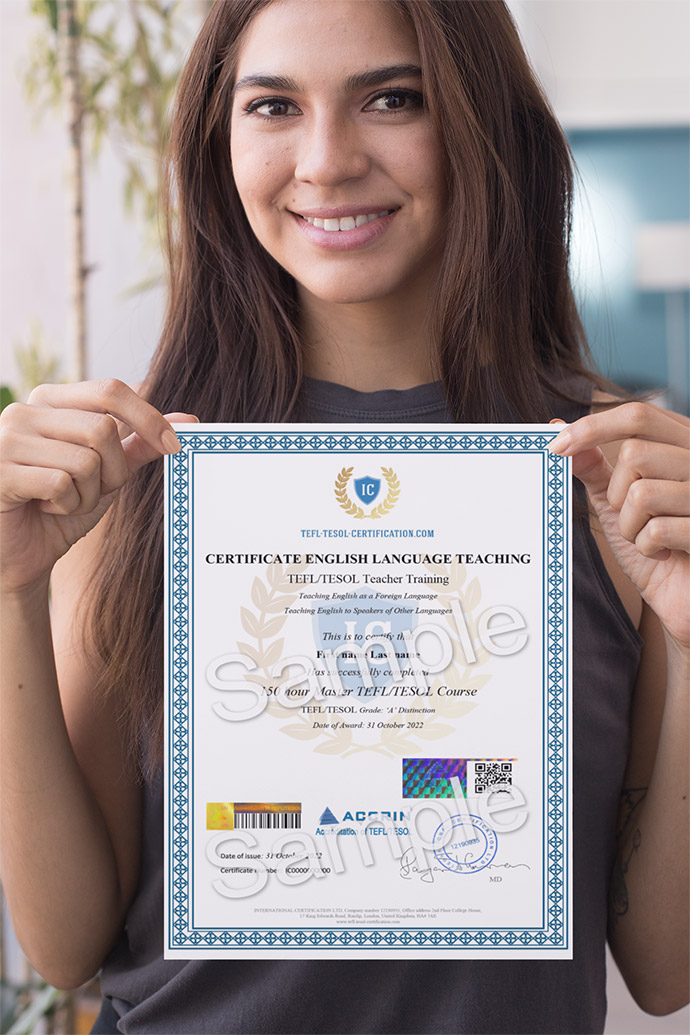 Suitable for obtaining work visas for employment abroad.
Suitable for offline and international online platforms.
Has no statute of limitations.
Without indicating that it was received online.
Unique number for authentication.
With stamp, hologram, QR and barcode.
Annex to the certificate - transcript of the course.
Indication of TEFL* + TESOL ** in one certificate.

* Teaching English as a Foreign Language.
** Teaching English to Speakers of Other Languages.

The certificate is an official document.
It generated upon completion of the entire course.
Accreditation confirms that the course and educational institution comply with international standards and best practices in pedagogy. A transcript of the course with a description of the program that was mastered is attached to the certificate.
Optionally, you can order delivery anywhere in the world of a paper version of the certificate or consular legalization. This service is charged separately and is shipped by UK Post or DHL.
International Certification Standard
The certificate is recognized by employers all over the world. It is the International Standard for Certification for English Language Teachers and is licensed to teach English worldwide. Accredited by the UK government. The document number is 12190935. You can check it on the official website of the UK government.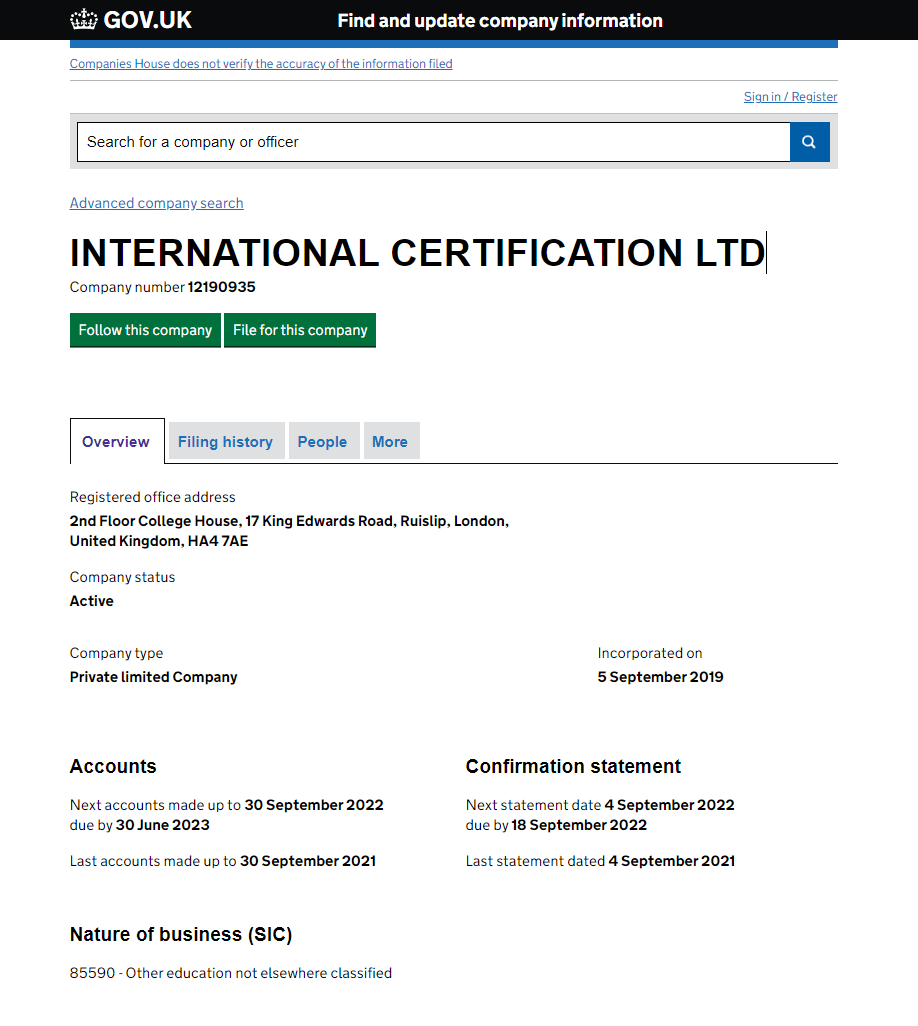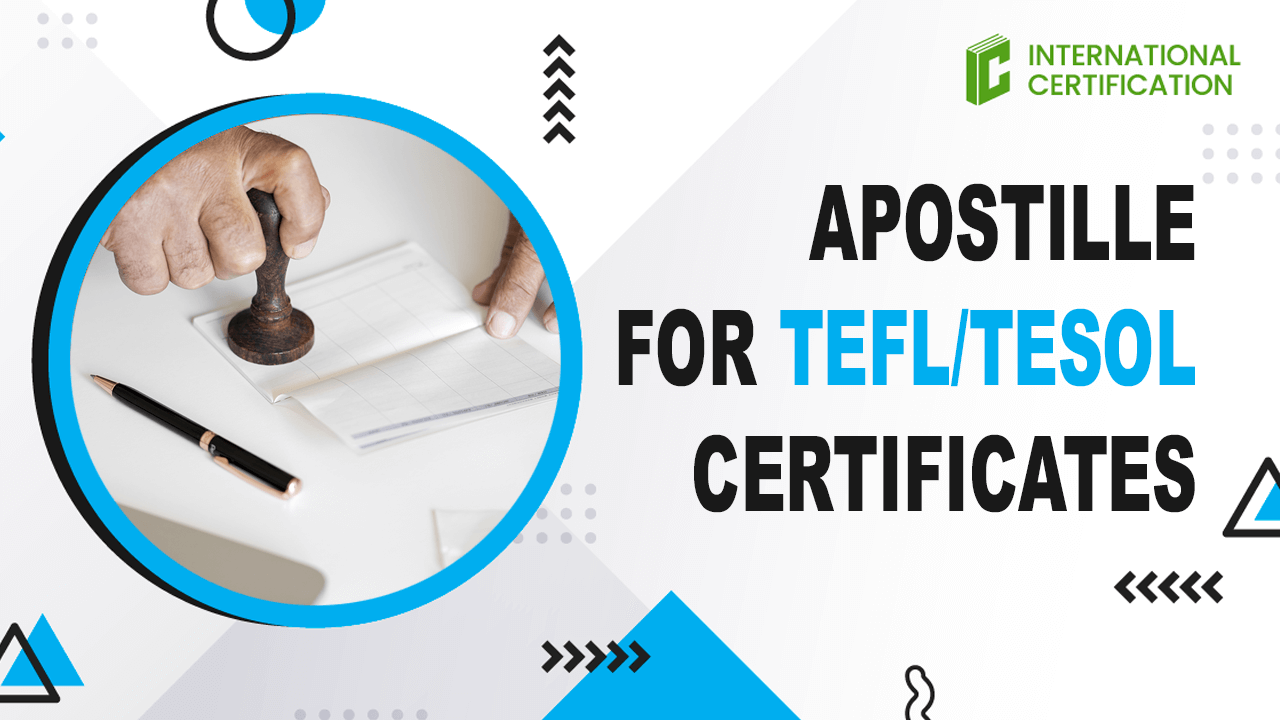 Consular legalization of the certificate
If necessary, it is possible to order the consular legalization of certificate. This means that the consul of the country where you plan to work at the embassy in a country where a certificate was received, in our case - in the UK, will confirm that your certificate is an official document.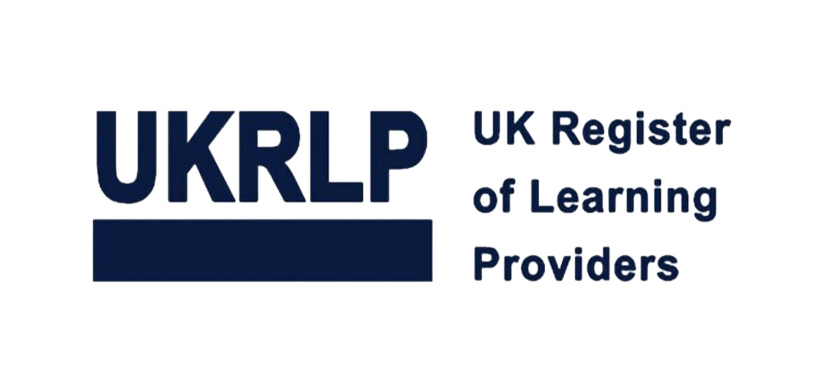 Learning platform TEFL-TESOL-CERTIFICATION.COM is registered under UKRLP (UK Register of Learning Providers). Number 10089972
Registration on the UKRLP confirms that we have been verified against a recognised legal source.
As a rule, the certificate in PDF format is enough for employers, the main thing is its unique number to verify the authenticity of the certificate that it was issued in your name.
The cost of delivery of the original certificate from the UK is from $ 35.
Delivery time from 30 working days is the time for placing an order + producing a certificate with holograms, bar codes and qr codes + the work of postal services.
As you will have a certificate in electronic form, you can, if necessary, order a paper version of the certificate or consular legalization at any time, since your certificate does not have a statute of limitations.
We are
official partners of ACCRIN.CO.UK, which is based in the UK and is an international accreditation body.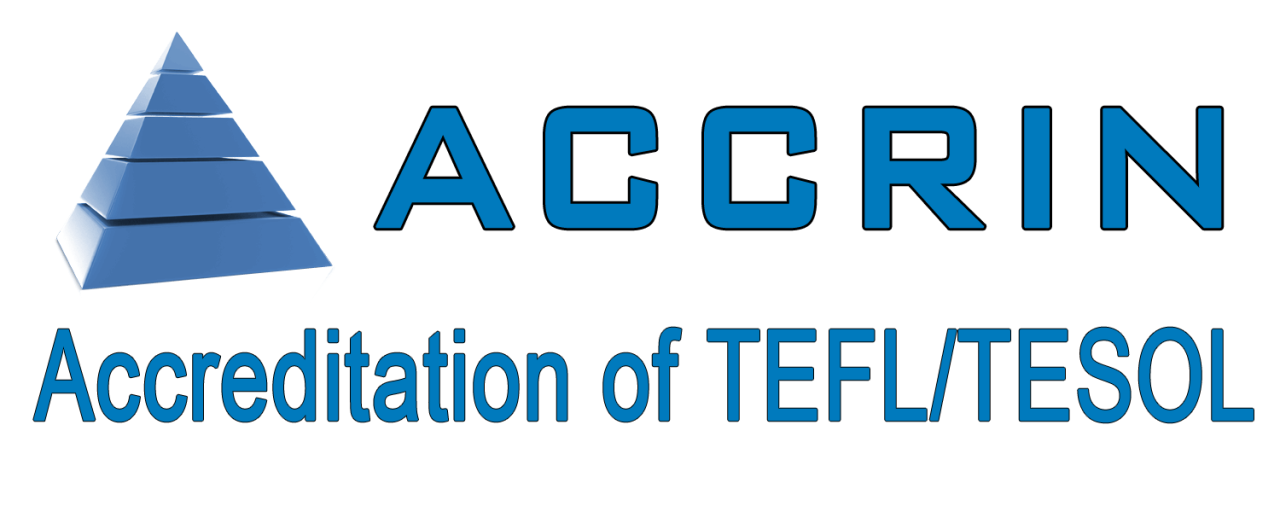 ACCRIN.CO.UK is listed as a center with high standards, here you can find the requirements that the accreditation center imposes on course providers
Get to know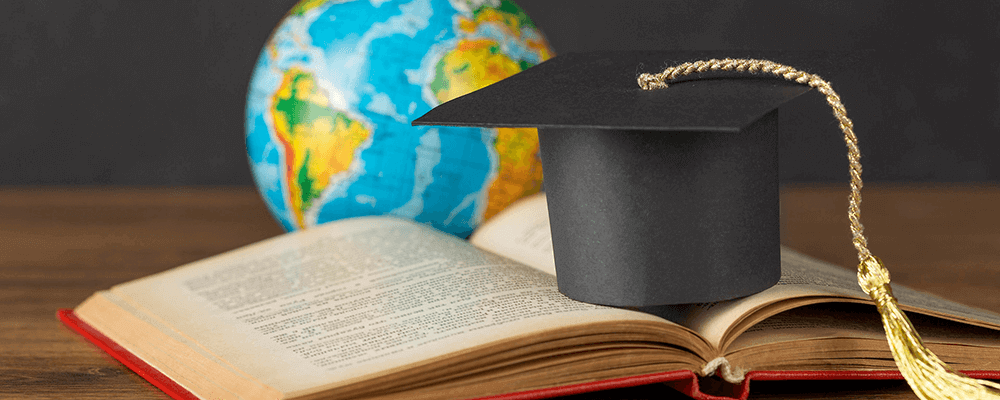 These certifications are recognized by employers around the world. Information on how to verify the authenticity of a certificate is available on our website.
Follow
Accreditation Center ACCRIN strongly believes that education is the best investment. That is why ACCRIN is a shareholder of the largest international educational platforms.
Read more
Our accreditation numbers: 10003945, 10007162
International Certification & TEFL TESOL CERTIFICATION
To be competitive, we provide our clients with the most loyal conditions:
Conclusion of an official offer contract. Payment in instalments without interest from our company is available. Payment is made in two instalments with an interval of 30 days.
You can pay by card in any currency with conversion at your bank's exchange rate on the day of payment.
The ability to pay with a 50% discount (We can make discounts, providing excellent service at a low cost, thanks to a large number of customers).
Provides multiple payment methods, Visa, MasterCard, Apple Pay, Google Pay, and PayPal.
Support for all your questions. We are happy to answer all your questions. Please write to us! In WhatsApp, Viber, Telegram, Skype, E-mail.
Possibility of receiving cashback (we return part of the money paid by the client for the video review).
You can request that a paper version of the certificate be sent to you anywhere in the world.
Once you have passed all the tests and exams, an electronic certificate will be automatically generated along with your course transcript and displayed in your account.
For your guarantee you can optionally write a request to ACCRIN, indicating the address of our website tefl-tesol-certification.com or our company name INTERNATIONAL CERTIFICATION LTD, Company number 12190935, write a request for provider authentication in English.
In any case, you have nothing to worry about. Our company works officially. We sign an offer contract with every client. You pay according to the official offer contract. You will receive an official receipt with information about who and what you have paid for.
We are a registered organization
INTERNATIONAL CERTIFICATION LTD,
Company number 12190935, Office address 2nd Floor College House,
17 King Edwards Road, Ruislip, London, United Kingdom, HA4 7AE
The Registrar of Companies for England and Wales, hereby certifies that INTERNATIONAL CERTIFICATION LTD is incorporated under the Companies Act 2006 as a private company, and the situation of its registered office is in England and Wales. Company Number 12190935.
The peculiarity of our company
is an impeccable reputation
That is why we publish reviews that always contain his profile on the social network and the review itself:
Read reviews.
Check out the social networks of the reviewers.
Talk to reviewers on social media.
We have the best conditions!
Installment payment
Payment is made in two installments with an interval of 30 days.
Discount and gifts
50% Off Any TEFL/TESOL Course Package + $209 Free Gifts.
Personal Native Speaker
Personal native speaker trainer to ask questions during the learning process.
Free Employment Assistance
An assistant works with you, helps you create the right resume, offers you vacancies in countries of your interest with satisfying conditions, or helps you start a career as an online teacher.
Cashback
Get $20 cashback for reviewing our company. Cashback is a return of part of the money spent after payment. Place an order with additional benefits. Cashback for a video review, likes and subscriptions can be received after receiving a certificate, so that there is something to write a review about.
Book as a gift
The book "100 Ideas for Teaching English" is an invaluable source of ideas and inspiration for English teachers. An excellent assistant for beginners and experienced English teachers. The book is detailed with engaging lesson plans and presentation schemes.