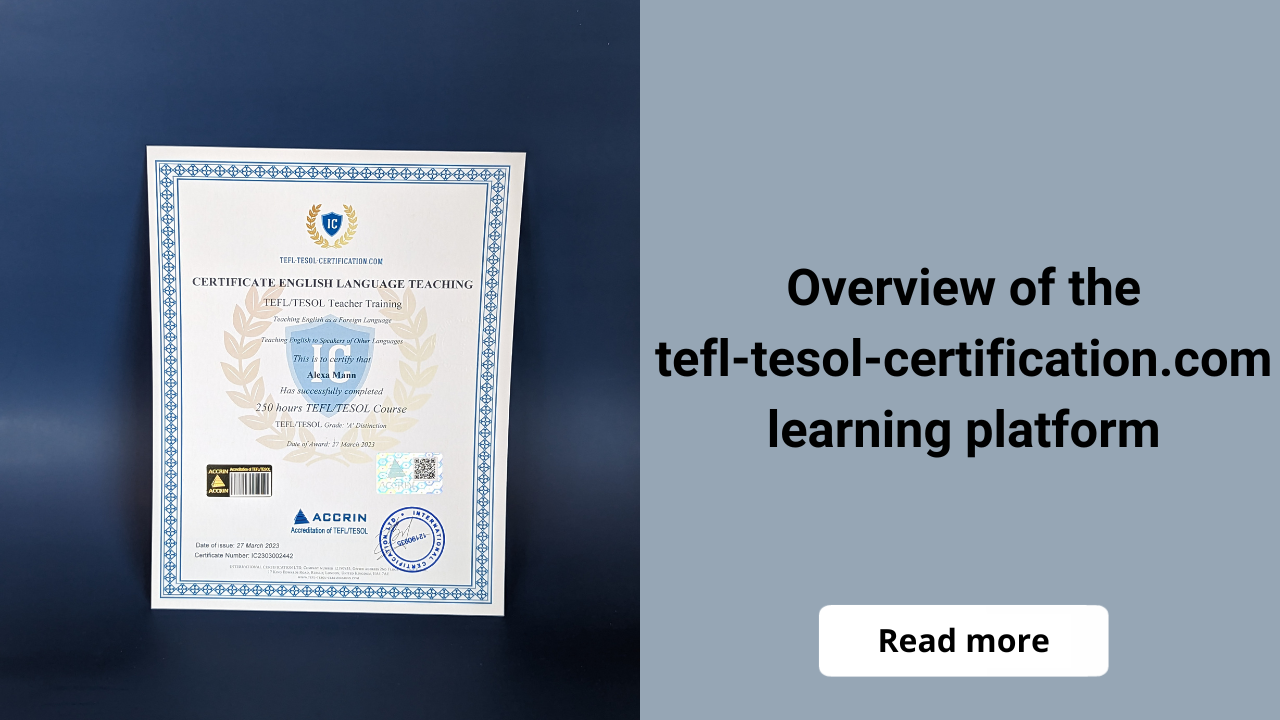 Overview of the TEFL-TESOL-Certification.com learning platform
Table of contents
Most ESL teachers are into constant professional development. It changes the way of teaching people of different ages. Needless to say that such knowledge affects our income as well. There are so many books of worldwide famous writers about pedagogy and teaching technics you can read. But let's be honest. There is fat chance to implement something worth. In this article you will know how to drastically improve your teaching skills in a couple of months.
There are a lot of trainings and international exams for English teachers. We have researched the most popular to compare main factors such as cost, value, duration, and cetificates. In the end, TEFL/TESOL course is the only has lived up to expectations. The good news is the course has no disavantages at all.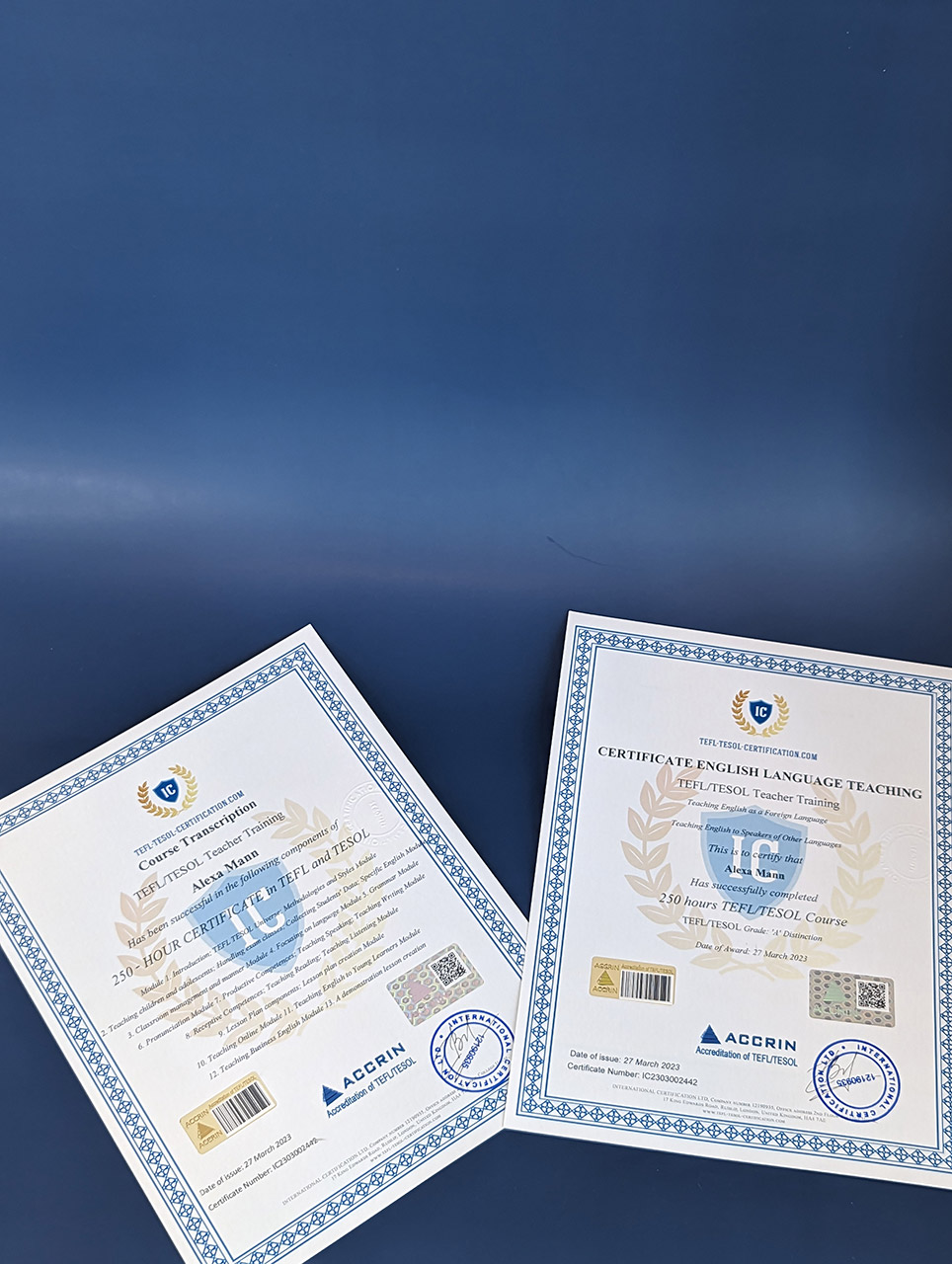 What is special about the course:
It includes two trainings such as, TEFL that proves a competence to teach English as a second language, and TESOL that allows to teach natives speakers of other languages.
Your TEFL/TESOL certiciate will not expire. There won't be necessary to confirm your skills again.
The certificate is the accredited permission to teach English all over the world.
It is one of the most required and respected courses for ESL tutors.
The cost is quite affordable from $199 to $365.
Thanks to online studying you may determine your own pace of learning.
At the end of the course, you will get invaluable knowledge to get a job abroad or to set a higher price working on your own. It will definetely change your typical teaching style, so your students will feel it too.
Who is this course for?
People who are fond of English and have at least Intermediate level.
Those who want to work online or abroad.
Experienced ESL teachers who want to get promotion and increase their income.
The training is rather flexible in terms of duration, but quite intensive in terms of information. The stucture is so clear that not only qualified tutors will get it but also newcomers.
Course program
You will get 6 or 8-month access to the materials depending on the course duration such as 120, 150, or 250 hours. You can learn it whenever you have free time. All information is concise and precise. The course creators have taken into account all possible questions and difficulties on teachers' path. So, while you are learning new teaching technics, you are ready to potential students' problems and reactions.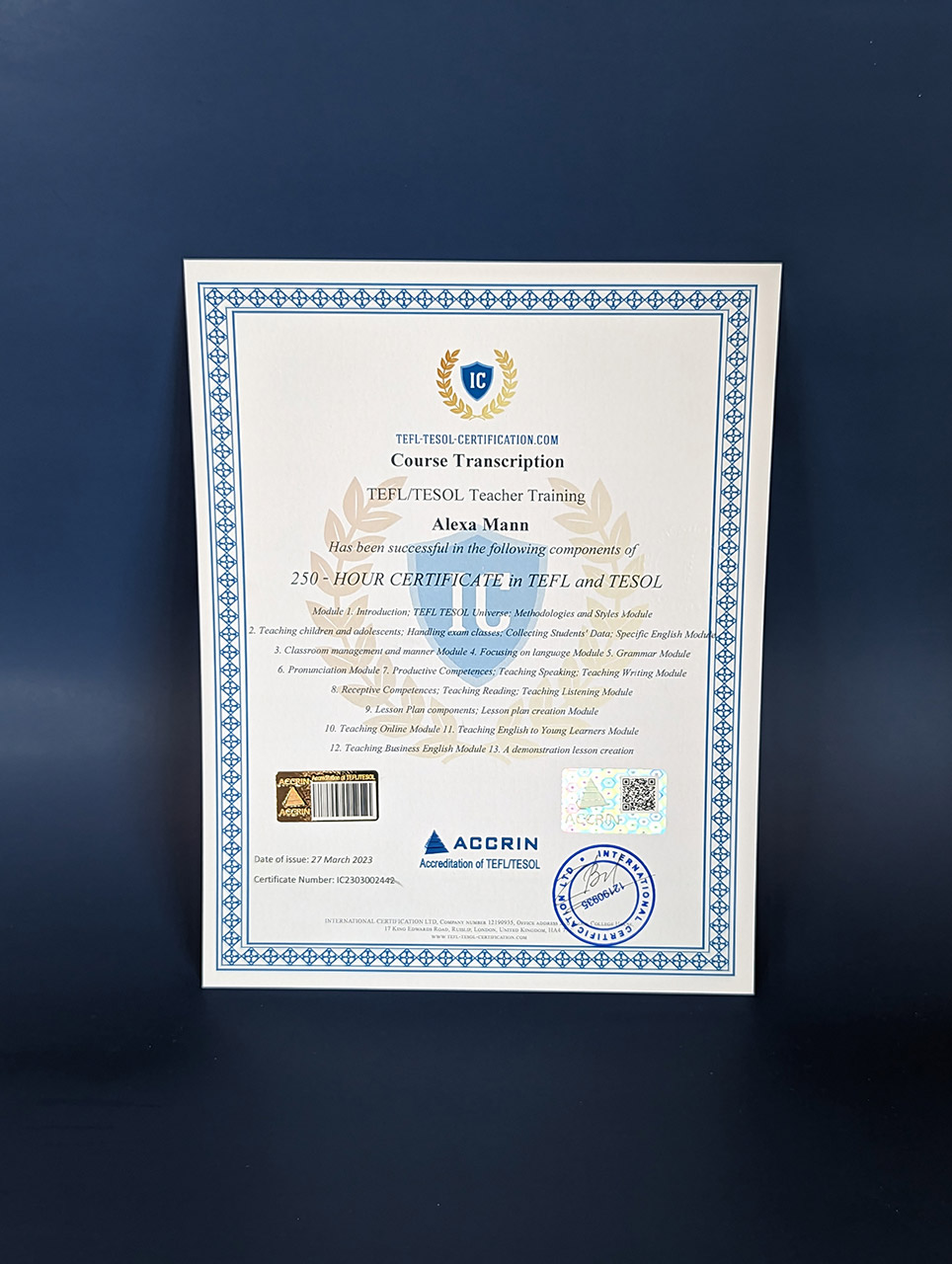 articles;
video lectures;
examples of effective lessons;
analysis of successful lessons;
tests;
making lesson plans;
getting feedback from a personal native speaker trainer.
You will know how to use different learning approaches and successesfully combine them. Language acquisition isn't about text books scrutiny. That is an activity that develops many skills such as public speaking, debating, and critical thinking. So, students of all ages will appreciate your engaging and riveting lessons. Effective lesson planning is a half of the result.
The training will answer the majority of teachers' questions:
how to develop students' productive skills;
how to improve learners' receptive skills;
where to find appropriate materials and exercises;
what is the difference between teaching children and adults;
what learners' feautures must be taken into account;
how to teach Business English and exam preparation;
where to find a decent job.
That is inspiring start for those, who are fond of the language and searching ways to make money doing what they love. After taking the course you won't be afraid of making special lessons for students with specific purposes. You will become a favorite English teacher and a valuable employee.
Certificate advantages
There are many different and useful ways of use the international certificate. Firstly, this is a decent accomplishment will be highly evaluated by your students and colleagues. Secondly, the certificate is an official document for obtaining work visa. International companies are interested in hiring high-qualified ESL tutors, that is why a certificate must fit the bill.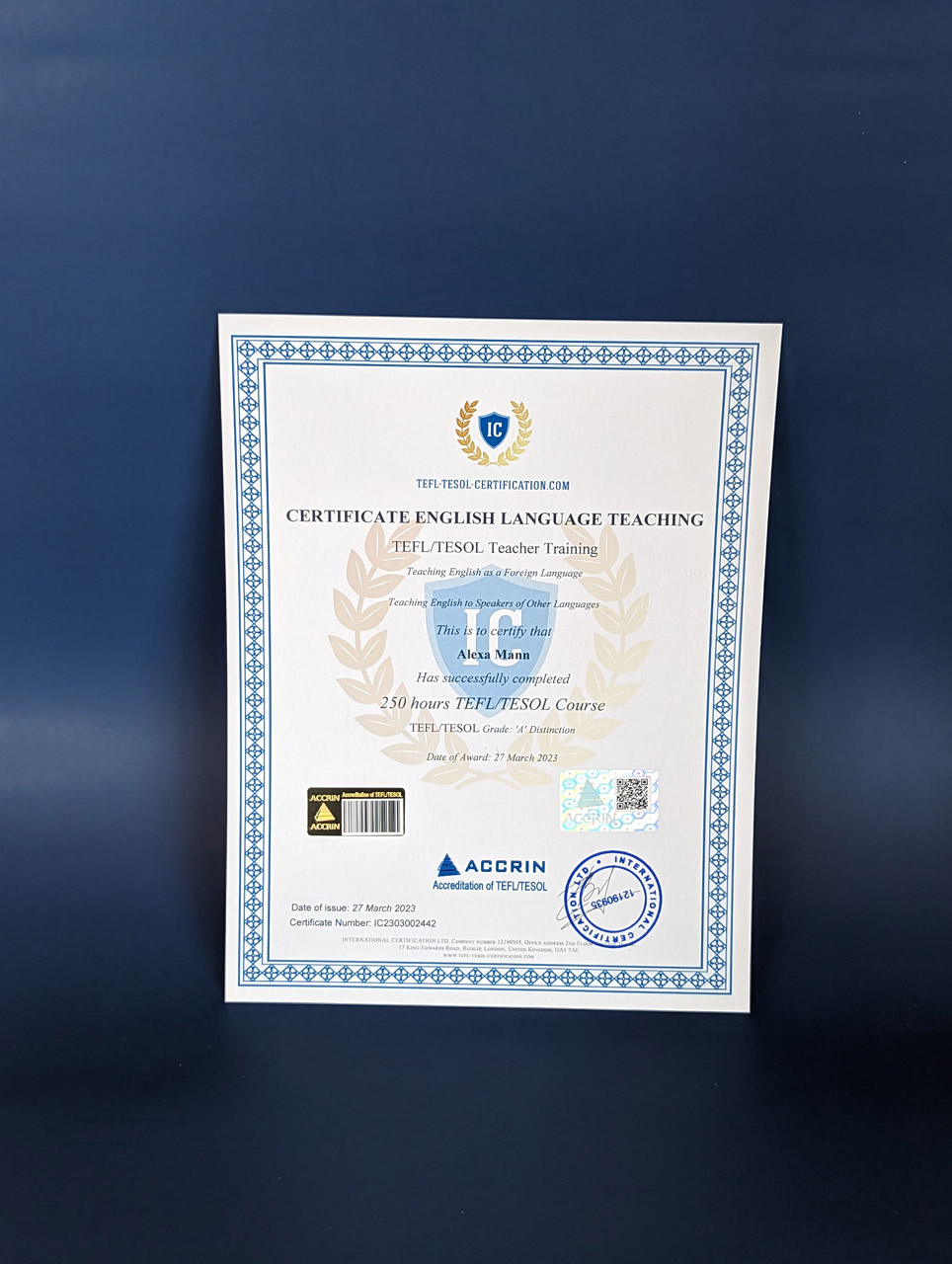 The TEFL/TESOL certificate is recognized by employers all over the world because:
It is accredited by the UK government.
International standard for certification accredited by the British center ACCRIN.
INTERNATIONAL CERTIFICATION LTD is incorporated under the Companies Act 2006 as a private company, and the situation of its registered office is in England and Wales.
After taking necessary exams at the end of the course, everybody gets a degital copy of the certificate. Such version is enough to impress your current employer or students. However, if you consider working abroad, there is a possibility to deliver the hard copy with holograms, QR, and barcodes. It will cost about $40, and will be delivered in a month from the UK.
The certificate is trustworthy because:
It has a unique number to check.
Holograms, stamps, and barcodes confirm the relation to the official partner of ACCRIN.CO.UK.
The course transcription is included.
Inspite of online studying, the certificate has no mention about it. That's a good news. Also, it is possible to order consular legalization of the certificate, if you need to make the certificate legitimate due to the requests of a foreign country.
In conclusion
Due to the fact that there is no the only sample of TEFL/TESOL certification around the world, be careful, because not all training centers are accredited to issue licensed diplomas. But now you know how to distinguish fake providers and what company you can trust. There is a link to check the auntenticity of the certification for you or your potential employer.
Such knowledge is a huge contribution to your professional and personal development. Despite the abundance of ESL trainings, TEFL/TESOL deserved equal respect and recognition from experienced tutors and newcomers. The native language of your students doesn't matter, after the course you will have a plenty of ways to teach them effectively. Now, you can purchase the course at a discount.
Terms used:
ACCRIN, ESL, TEFL, TESOL
Liked the article?
Share with friends!